Knitwear Design for Fashion & Textiles | FDKX
Course Overview
Awards:
QQI Level 5 Design 5M2208
City & Guilds Level 3 Certificate in Design & Craft 7716-16 Hand Knitted Textiles
The aim of this programme is to provide learners with a comprehensive introduction to all aspects of knitted textiles in art, fashion, accessories and interiors. There is a strong focus throughout the programme on applying knowledge and skills practically to produce real results. Traditional and contemporary techniques will be explored including hand and machine knitting, crochet, felting and weaving. A Textiles portfolio of work which reflects the learner's ability to deliver creative and original responses to knitted and woven textiles is prepared in the year. This is essential for those wishing to gain entry to Art Colleges or to seek employment in the knitwear industry.
Apply for this Course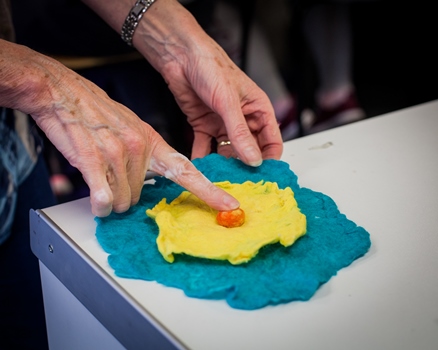 Typical Modules
Design Skills
Knitting
Combined Materials
Woven Textiles
Drawing
Fabric Manipulation
Work Experience
Communications
Entry Requirements
Employment Opportunities
Applicants must have Leaving Certificate, LCA or equivalent.
Holders of a QQI Level 4 Award are also eligible to apply.
Mature learners (over 23) may be exempt from the above academic
requirements.
Places on the programme are limited and will be allocated on the basis of a personal interview.
• Freelance knitwear Design and Swatching, Knitwear Manufacturing, Self-employment, Fine Art Textiles, Textiles for Interiors, Knitwear fashion design business.
• Successful learners may be interested in directly applying to Colleges of Art & Design for a place on their Degree programme in Fashion Knitwear and Textiles.
• Institutes of Technology and other Colleges around the country offer opportunities for further studies. Please check with the individual Admissions Offices of any institution you are interested in attending or visit www.cao.ie.
• At time of going to press LCFE learners who complete 5M3865 QQI level 5 Design Award, may progress to first year of the HC in Fashion Knitwear and Textiles at LSAD. LCFE learners may also avail of additional points as per Bonus Points Local Agreement with LIT for admission to this course.