05/Oct/2016
LCFE is delighted to launch its Prospectus 2017/2018.
Limerick College of Further Education (LCFE) recently launched its new Prospectus for full-time programmes in the 2017/18 academic year. Containing information on over fifty different programmes the prospectus is available in print as well as an online version downloadable from the website.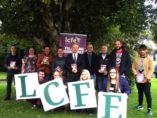 Commenting, Pat Maunsell, LCFE Director, said: "We are delighted to launch our new prospectus for the forthcoming academic year.  We have reviewed our courses and added new ones in order to meet the demands of learners and employers. I invite you to view our prospectus and come and visit the College on our Open Day on Tuesday February 7th."
The new prospectus also outlines several new programmes the College is planning to offer in 2017/18 including: Liberal Arts, Knitwear Design for Fashion & Textiles, Animal Care, Horticultural Studies and Sports Injury Management.
In a period of significant change for the Further Education and Training sector, LCFE is responding, according to Pat Maunsell: "We are positioning the College to be a major player in the education landscape of the Mid-West. LCFE is already the largest FE College in the region. We have exciting expansion plans and are continually adapting our programmes to better meet the needs of our customers."