21/Aug/2018
Now that the dust has settled on a magnificent, emotional weekend of hurling, it's only right that we congratulate the amazing Limerick Senior Hurling Team but in particular our own connection to the squad.
Adrian Kearns is the Sports Massage Therapist with the Limerick Senior Hurlers and an integral part of the Limerick backroom team. Adrian was a learner on the Sports Injury Management Course at LCFE and excelled in his exams this May. He completed an ITEC Sports Massage Therapy Award and a QQI Level 5 Award in Community Health Services, studying modules like Sports Massage, Anatomy and Physiology, Taping & Strapping and Nutrition.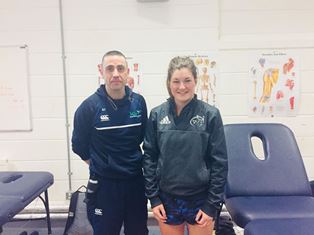 Adrian immersed himself in this full time, one-year course and the rewards speak for themselves. He is seen here with Irish International Rugby Player Anna Caplice participatingin a Massage workshop where LCFE learners  worked with a number UL athletes on campus as part of their Sports Massage module.  
We are all extremely proud of what he has achieved and in such a short space of time. We'd like to say that there are surely bigger things ahead, but what's bigger than having a role in bridging a 45-year gap and welcoming Liam McCarthy back to Shannonside.
Wishing Adrian and Limerick GAA future success and continued joyous celebrations.