17/Apr/2018
Students from Smarter Travel Campus Third Level Partners throughout the country received awards for creating videos, animations, audio pieces, radio ads, graphics and installations for the National Transport Authority's Smarter Travel Student Multimedia Awards in the Belltable Theatre, recently. The entries produced by students were to promote 'smarter' modes of transport; particularly walking, cycling, public transport and car sharing. "We are delighted with the quality and variety of entries, and our judges were equally impressed.  The entries were both entertaining, and captured the positive aspects of making smart transport choices for the journey to college".  Anne Graham, Chief Executive Officer, National Transport Authority.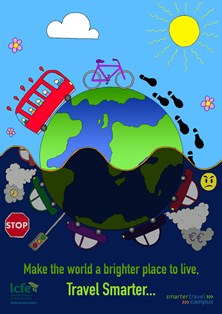 Ciara Daly from Limerick College of Further Education won The Graphic, Text & Installation category with Teresa McMahon awarded 3rd place.
A special prize awarded to Ashling Moroney, Aoife Kenny, Brandon O Connor, Dylan Hutchinson, Danielle Jackson from Limerick College of Further Education for their fantastic Bus Stop Installation.
The Smarter Travel Student Multimedia Awards are organised by the Smarter Travel Campus Programme of the National Transport Authority. This was the fourth year of the Multimedia awards. It was open to third level institutions in Ireland who are partners of the Smarter Travel Campus programme.