06/Feb/2018
Learners at LCFE are going from strength to strength this Spring.
Art & Design learners received accolades in the Limerick Smart Travel Poster design competition.  Geri Hayes being placed first with Ciara Daly and Dillon Hutchinson both being placed as runners up.  Congratulations everybody.
Former Photography Learners, Ciara McCullough, Diarmuid O'Donovan & Tony Clancy, scooped awards at The Brides of Limerick Wedding Industry Awards 2017.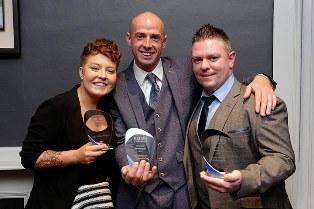 Our Sports Injury Management Learners provided event massage to a number UL athletes on campus as part of their Sports Massage module. It was a fantastic experience and some of the learners were lucky enough to work on some international superstars. Irish International Rugby Players Anna Caplice and Niamh Briggs are pictured. Thanks to UL staff who facilitated this amazing learning experience.